PTFE Gasket:
Manufacturing process: 1) raw material preparation; ingredients: pure F4 products, raw material F4 fine resin, mashing, sieving; 2) mold preparation: wipe with alcohol, there is no rust and attachment in the die; 3) weighing, According to the formula g = PV (where G is the feeding amount, P is the density of the pre product (2.18g / cm3) V is the product volume), weigh out the weight; 4) feeding: evenly distribute F4 resin on the whole pressing surface; 5) pre forming (pressing): calculate the gauge pressure of the press according to the formula, and set the gauge pressure of the press. Press; 6) demoulding trimming: take out the semi-finished product from the mold and trim its surface to make its surface flat and edge neat. Preparation for molding; 7) sintering: slowly put the semi-finished products into the sintering furnace, put them into a suitable number, heat up for about one hour to 390 degrees, and then conduct heat preservation for another hour, and then start to cool down after molding, about four hours later, arrive at the indoor temperature, and then the finished products are discharged and finished.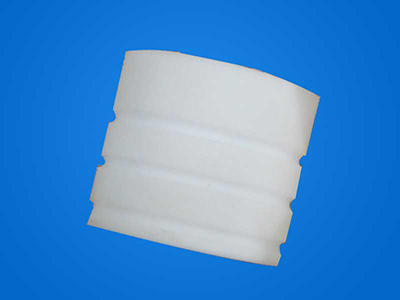 Company profile:

Huzhou Ningxin new material science and Technology Co., Ltd. is located in Deqing County, Zhejiang Province. It is a member of the fluorine plastics processing professional committee of China Plastics Association. It has been engaged in the development, production and sales of fluorine plastics products for nearly 20 years. Its main products are: polytetrafluoroethylene plate, rod, tube, film, various sealing gasket, washer, plastic special-shaped parts, fluorine plastics special mechanical products, etc. The company has obtained ISO9001 quality management system certification, and is rated as a provincial high-tech enterprise in 2019. In recent years, our company has a high reputation in marine engineering, ship industry, chemical anti-corrosion industry and mechanical parts. The product has obtained SGS test certificate, UL94 flame retardant certificate and FDA food level test certificate.

Over the years, the company's products are not only used in domestic petroleum, chemical industry, medicine, electronics, machinery, automobile, smelting, shipbuilding, transportation and other fields, but also exported to many countries and regions, favored by the majority of users. Recently, the company has increased investment to develop new fluoroplastic materials and products, and launched more new products to meet the needs of more users at home and abroad.

Qualification certificate: