ePTFE joint sealant tape:
Expanded polytetrafluoroethylene sealing tape, because of its softness, large compression ratio, easy to form in three-dimensional space, can be inlaid into micro cracks and damage to repair cracks and plug leakage, especially in acid resistance, alkali resistance, anti-corrosion and non-metallic equipment, large diameter container connection, which can effectively protect the device connection of brittle materials. For such as glass, ceramics, graphite, plastic and other non-metallic devices, very special role. It can compensate and balance the errors caused by defects, machining, rigid deformation and installation dislocation, balance the uneven preload, and effectively solve the leakage problems of various facilities under complex conditions. Secondly, the sealing gasket of the expanded polytetrafluoroethylene interface is white, pure and pollution-free, which conforms to the international FDA / USDA standard. It is a sanitary product used in food, beverage, wine making, biochemical, pharmaceutical and other production devices, which can protect the high purity of the medium and prevent pollution. The corrosion resistance of expanded polytetrafluoroethylene interface gasket is especially suitable for chemical, petrochemical, petroleum and other production units with high corrosion medium quality.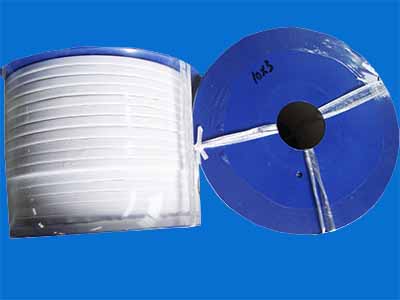 Pressure range

Hydraulic pressure 200 (kgf / cm2)
Air pressure 140 (kgf / cm2)
Thickness: 0.5mm-10 mm
Width: 3mm-100mm
Density: 0.8g/cm3 ~ 1.0g/cm3
PH 0~14
Company profile:

Huzhou Ningxin new material science and Technology Co., Ltd. is located in Deqing County, Zhejiang Province. It is a member of the fluorine plastics processing professional committee of China Plastics Association. It has been engaged in the development, production and sales of fluorine plastics products for nearly 20 years. Its main products are: polytetrafluoroethylene plate, rod, tube, film, various sealing gasket, washer, plastic special-shaped parts, fluorine plastics special mechanical products, etc. The company has obtained ISO9001 quality management system certification, and is rated as a provincial high-tech enterprise in 2019. In recent years, our company has a high reputation in marine engineering, ship industry, chemical anti-corrosion industry and mechanical parts. The product has obtained SGS test certificate, UL94 flame retardant certificate and FDA food level test certificate.

Over the years, the company's products are not only used in domestic petroleum, chemical industry, medicine, electronics, machinery, automobile, smelting, shipbuilding, transportation and other fields, but also exported to many countries and regions, favored by the majority of users. Recently, the company has increased investment to develop new fluoroplastic materials and products, and launched more new products to meet the needs of more users at home and abroad.

Qualification certificate: