PTFE&PVDF roof tension Membrane (Other Polytetrafluoroethylene Products)
The tensioned membrane structure is formed by stretching the membrane material on the structure through the stay cable. The tensioned membrane structure can also be called the tensioned membrane structure. It is a structural system composed of a stable space hyperbolic tensioned membrane surface, a supporting mast system, a supporting cable and an edge cable. Due to the plasticity of image and the high flexibility and adaptability of structural mode, the application of this mode is very extensive. The tensioned membrane structure can be divided into cable net type and spinal cord type. The tensile membrane structure system is rich in expressiveness and strong in structural performance, but its cost is slightly higher and its construction requirements are also high.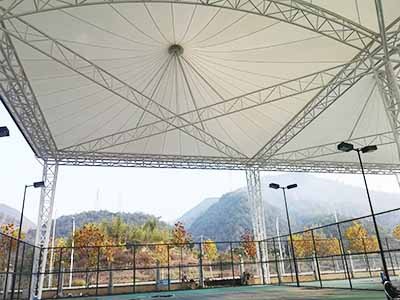 Company profile:

Huzhou Ningxin new material science and Technology Co., Ltd. is located in Deqing County, Zhejiang Province. It is a member of the fluorine plastics processing professional committee of China Plastics Association. It has been engaged in the development, production and sales of fluorine plastics products for nearly 20 years. Its main products are: polytetrafluoroethylene plate, rod, tube, film, various sealing gasket, washer, plastic special-shaped parts, fluorine plastics special mechanical products, etc. The company has obtained ISO9001 quality management system certification, and is rated as a provincial high-tech enterprise in 2019. In recent years, our company has a high reputation in marine engineering, ship industry, chemical anti-corrosion industry and mechanical parts. The product has obtained SGS test certificate, UL94 flame retardant certificate and FDA food level test certificate.

Over the years, the company's products are not only used in domestic petroleum, chemical industry, medicine, electronics, machinery, automobile, smelting, shipbuilding, transportation and other fields, but also exported to many countries and regions, favored by the majority of users. Recently, the company has increased investment to develop new fluoroplastic materials and products, and launched more new products to meet the needs of more users at home and abroad.

Qualification certificate: